Before you purchase a new home, be sure to have an experienced inspector give a thorough inspection of your property. Using the latest state-of-the-art Thermal Imaging Technology combined with standard inspection tools and techniques, Quality Building Inspection/Termite Control provides you with a broader and more comprehensive assessment of the house. What may cost a few hundred dollars now can save thousands of dollars in repairs if problems are found and addressed in time.
When our inspector begins an inspection on a home, he generally does a top to bottom inspection; he visually looks at the roof void, the interior and the subfloor. In addition, the Thermal Imaging Camera works as a second set of eyes that can detect temperature anomalies. Our trained inspector can analyse an image in seconds to identify possible termite activity, weaknesses of the building or risk areas.
The Thermal Imaging System is a camera that reads heat variations. Thermal Imaging is commonly used in the detection of moisture damage, water ingress, and termite activity within buildings. It can verify the extent of any thermal anomaly that may indicate the presence moisture damage, water ingress, or termite activity located within a home. When imaging the inside of the building fabric, such as ceilings, walls, floors etc.,  wet or damp areas will usually have a different temperature to that of dry areas. When viewed on the camera's screen the wet areas will appear relatively darker in comparison to dry areas. Using an Infrared Thermal Imaging Camera alongside a Moisture Meter allows our inspectors to rapidly identify and document the location and extent of water damaged areas without the need for invasive inspection techniques.
Water ingress and damp related problems are a big fear for home buyers because dampness and moisture will cause deterioration to the building and can lead to mould growth or conditions conducive to termite infestation.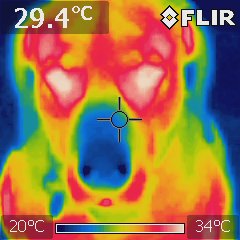 This photo shows a Thermal Image of our office dog Shadow.